If you want to avoid panty lines and you are looking for comfortable underwear then Thong is for you. Thong is the most comfortable and breathable underwear for women.
However, not all thongs are comfortable because not all thongs are made with the right fabric, the right fit, and the right style.
In this article, we will tell you how to wear thong underwear for the first time and how thongs are supposed to fit.
In this article, we will tell you more about how many types of thongs there are and which one will be perfect for you. So let's get started without wasting time.
How Thongs Are Supposed To Fit?
If you are new to the world of thongs, it is a bit difficult for you to find the right size thong. Another reason why thongs do not fit well is that not too much fabric is used to make thongs.
Some thongs fit on both sides but do not fit perfectly on the front. Now we will tell you step by step how to choose a fit thong underwear for you and how should a thong fit in the front.
Before buying the right fit thong, follow the salesperson's advice and try a few different thongs to see which one fits your body perfectly.
The size of the thongs is the same as the size of other normal underwear so buy thongs the size of the underwear you wear.
Some fabrics stretch after washing such as cotton, so buy thong underwear of polyester fabric for the right fit.
Since thong underwear is made of less fabric, it does not stay in place and does not fit properly, so try to buy thongs with a wide crotch at the front and more material at the back so that your butts are slightly covered.
Suppose after the purchase you notice that your thong is loose, then do not throw it away. If you want, you can easily fit your thong by shrinking. If you want to know how to shrink all loose underwear including thong then click How To Shrink Underwear.
If you follow the above steps well then you can buy the right size and right fit thong for yourself and even after the purchase if you see that the Thong is loose then you can shrink it easily.
How To Wear Thong Underwear for the First Time?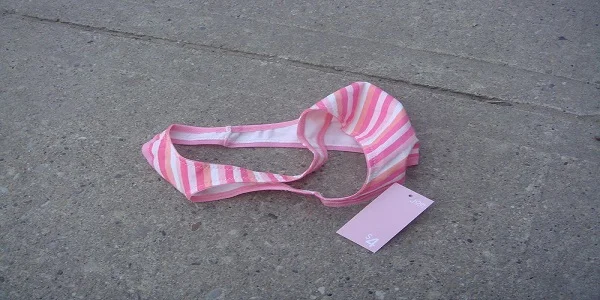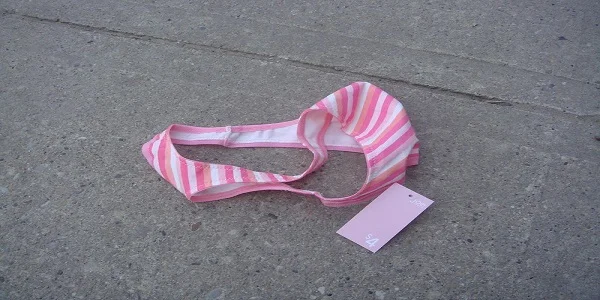 Before wearing a thong for the first time you need to choose the most comfortable thong. For the first thong selection, the crotch of the thong should have more coverage and more material on both sides.
Many girls want to know how it feels to wear a thong. Well, since the thong does not completely cover your butts, you may feel uncomfortable wearing the thong at first but gradually it will get better.
To wear thongs for the first time, you must make sure that your thongs are invisible, meaning that they cannot be seen under other clothes after wearing them. And make sure your thong doesn't rise above your belt line.
Sit down, upside down, squat, and do other similar movements in front of the mirror to check if your thong is above the beltline.
In our opinion, Calvin Klein Women's Cotton Thong is the best and most supportive thong for first time wear. This thong underwear is made with 90% original cotton and 10% elastane.
The combination of these two fabrics makes this thong underwear durable and breathable. Also, this thong underwear is very comfortable to wear and premium to look at.
How Many Types Of Thong Underwear Are There?
We have already told you that thong underwear is the most comfortable and breathable of women's underwear.
There are usually 3 types of thongs:
The Traditional,
The G-string and
The Tanga/Samba.
Now we will give you an idea about the 3 styles of the thong, and we hope that after reading this part you will be able to select the perfect style thong for yourself.
Traditional Thong Underwear
The front of the traditional thong will have full coverage and its waistband will also be wide and its fabric strip will be at least one inch wide.
G-String Thong
The G-string thong is very thin and its waistband and strip are very thin and look like yarn, only it has a triangular-shaped crotch in front.
Tanga/Samba Thong
Tanga/samba thong is usually crossed with panties and traditional thong. Its waistband is wide and it covers your front and back a lot more than other style thongs.
We have tried to give you an idea about all the styles of thong underwear for your convenience. And if you want to see all styles of thong underwear together, check it out.
Thong Sizes Chart
| | | |
| --- | --- | --- |
| SIZE | WAIST (in) | HIPS (in) |
| S | 25-26 | 32-33 |
| M | 27-28 | 34-36 |
| L | 29-31 | 37-39 |
| XL | 32-34 | 40-42 |
| 1X | 35-37 | 44-46 |
| 2X | 38-40 | 47-49 |
| 3X | 41-42 | 50-52 |
Frequently Asked Questions:
Q: How to wear a thong with discharge?
 A: You can wear a thong properly with a discharge, but if you want then choose a thong that has a wide crotch.
 Q: Are thongs comfortable to work out in?
 A: For workouts and to wear under workout shorts thongs will be the best choice for you because thongs are invisible and don't show line up.
 Q: Are thongs healthy?
 A: Thons is not so bad, because thongs offer less fabric which will help you to breathe your skin and keep you cool and fresh for long hours.
 Q: Are thongs bad for your health?
 A: Not like that, thongs are healthy, just choose a thong that is made of skin-friendly soft materials.
 Q: Do Thongs come in different sizes?
 A: Of course, thongs have come in different sizes, and you will find thong underwear small to super plus size on Amazon.
 Q: How can I avoid getting Thong wedgies?
 A: Simple, wear wedgie preventable thong underwear and try to avoid stretchy thong underwear.
 Q: How should a thong feel?
 A: Great, because thongs offer short coverage and invisible feature, that's why your skin stays cool, fresh and you can easily wear them with all kinds of tight-fitting dresses.
Final Words
In this article, we have told you how to wear thong underwear for the first time and how thongs are supposed to fit.
Also in this article, we have tried to give you an idea about the top 3 styles of thong underwear so that you can choose the right style thong for yourself. We are sure that after reading this article you will not have any problem related to it.
Most Popular Posts: